This week my daughter and I kept with the Storybook Summer Reading theme for the week ("Brown Bear, Brown Bear") and I decided we would make a Brown Bear mask.  My daughter LOVES to play dress-up so I thought this would be something she would love.  She also loves (as strange as it is) to wear socks on her hands to pretend she is wearing special gloves so we made bear paws with some old socks we had laying around.  She loved it!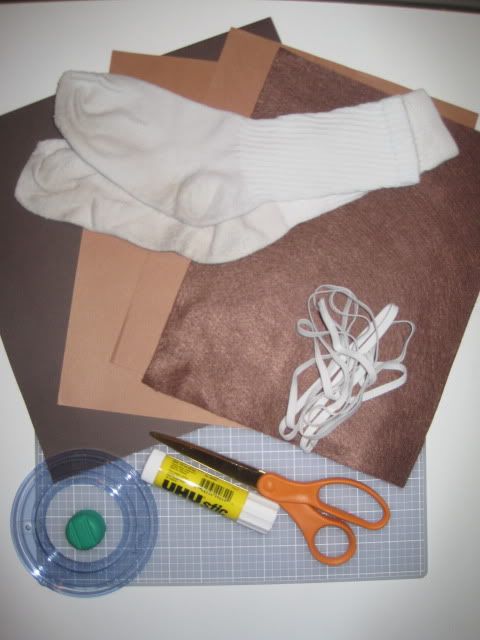 Supplies Needed:
Brown Construction Paper (we used two different colors of brown)
Elastic or yarn
Scissors
Glue
Hole Puncher
Marker
Brown Felt
(2) old socks
Fabric glue or hot glue gun
Step One:  Take a brown construction paper and make a large circle to form the face of the bear.  I folded our paper (which was actually a 12×12 sheet instead of a standard 8×11 because we were out of 8×11 dark brown) in half and drew a half circle to help my 3-year old be able to follow the line and cut the circle herself.
Step Two:  Cut two smaller circles for the ears.  We cut two 2-inch circles in dark brown and 1-inch circles in light brown.  We then adhered the light brown circles inside the dark brown and then adhered both ears to the circle face we cut in step one.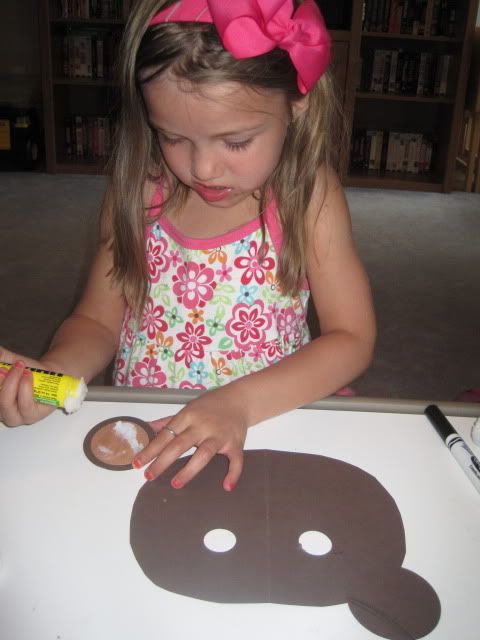 Step Three:  Cut two circles out for the eyes.  To do this, I placed the mask just below my daughter's eyes, marked with an X the location of each eye and then cut a circle from there.  My plan was to cut out a nose and mouth too, but she wanted to draw them.  You could do either/or.
Step Four:  Punch a hole on each side of your bear mask and then tie elastic or yarn from one hole to the other from the backside of the mask, and your mask is complete!
Step Five:  Cut six small 0.5-1 inch circles out of brown felt.
Step Six:  Using a heavy-duty glue (fabric or hot glue), adhere three circles to the bottom side of each sock.  This completes the paws for your bear.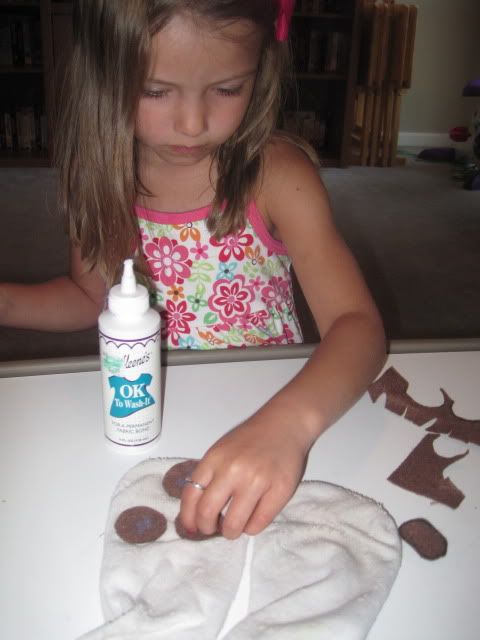 Here's our finished product!  This kept my daughter occupied for at least 20 minutes playing that she was "brown bear"!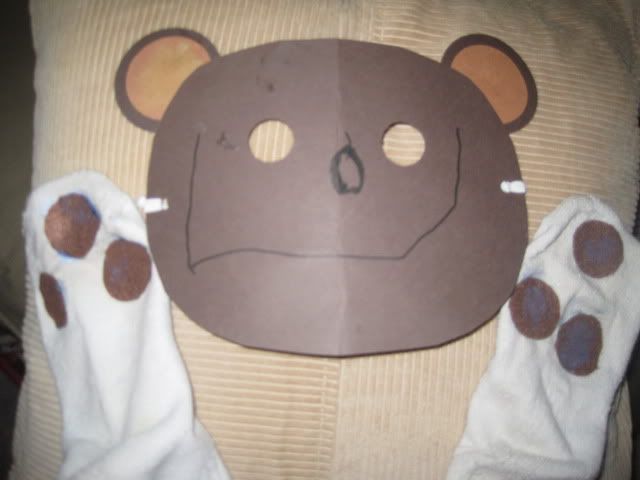 Are you participating in our Storybook Summer Program?  If so, share your craft projects that relate to this week's story here in our comment section.  We would love to see what you and your young child have been doing this week!